You should start brushing your pets's teeth when he or she is young. Start slowly and make it fun! Use a toothpaste made for pets and a pet toothbrush, pediatric toothbrush or even a piece of gauze wrapped around your finger.
Begin by cleaning the front surface of one or two teeth and you can gradually progress to include all teeth. Once accustomed to regular brushing, most pets seem to enjoy it.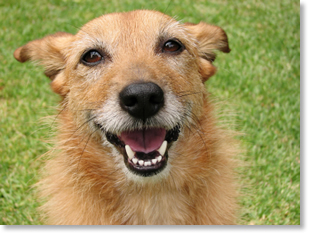 There are also several foods available that are formulated to reduce tartar build-up.
Iams has incorporated a "Dental Defense System" in their diets. The food contains an enzyme that remains on the teeth after a meal, and helps reduce plaque formation.
Hill's offers a food for adult pets that is formulated to clean tartar off the teeth. It's called t/d and is available only through veterinarians.
Adult cats and dogs with excessive tartar are constantly swallowing bacteria which may lead to kidney problems later in life. Your pet will benefit from a regular oral care program, but needs your help to do it!