It is impossible to keep a straight face in the presence of one or more kittens. ~ Cynthia E. Varnado
Kittens may begin their FDRC vaccine series at 6 weeks of age. This vaccine protects against Distemper, Rhinotracheitis, and Calicivirus.
FDRC vaccine is usually given at 6-8 weeks, 10-12 weeks and 12-14 weeks, then a booster is given one year later.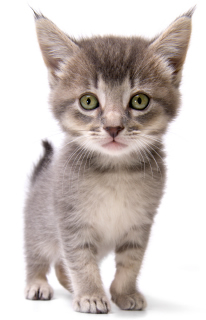 Rabies vaccination is given with the last FDRC. The first Rabies vaccination is good for one year, and subsequent vaccines protect for three years.
Rabies vaccine is required by law in Farmington and Farmington Hills, and a license is required in Farmington only.
A Leukemia/FIV test can be performed as early as 10-12 weeks.
Optional Annual Vaccinations:
Feline Leukemia vaccine is given at 10-12 weeks and 14-16 weeks, then boostered annually.

PureVax - non adjuvented 1 year Rabies vaccine.


Heartworms are a blood parasite transmitted by an infected mosquito. We recommend heartworm preventative be given from June 1st through December 1st, especially for cats that spend time outdoors.
Cats do not need to be tested prior to starting preventative.
Fecal Exam checks for intestinal parasites such as round worms. During the kitten vaccine series we recommend two negative exams, three weeks apart.
Cats who spend time outdoors should have a fecal sample tested once a year.


Spaying or neutering is recommended at 6 months of age for all cats not used for breeding.

Microchip Identification
We strongly urge you to obtain an i.d. tag to be attached to your cats collar. We also offer more permanent identification with the Home Again Microchip.

A microchip, which is the size of a grain of rice, is inserted underneath the skin between the shoulder blades. The i.d. number and owner information is registered with the Home Again Database.
If a pet is lost and recovered, the number can be read by any agency or veterinarian who has a microchip scanner, and the owner can be traced.